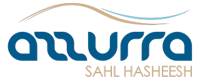 Prime Estates International Co. is striving to be one of the most successful medium sized residential tourism developers in Egypt. Our core business consists of developing property propositions with uncompromised value for money, providing second homes for locals and foreigners alike.
Location:
Sahl Hasheesh, Hurghada, Egypt.
Azzurra offers its guests an exclusive opportunity to relax, rejuvenate and rediscover the zest for life. Here you will find a wide range of offers in Azzurra newest projects and other real estate in Sahl Hashish. Perfectly represented available facilities, services and management advantages with possibility to book immediately.